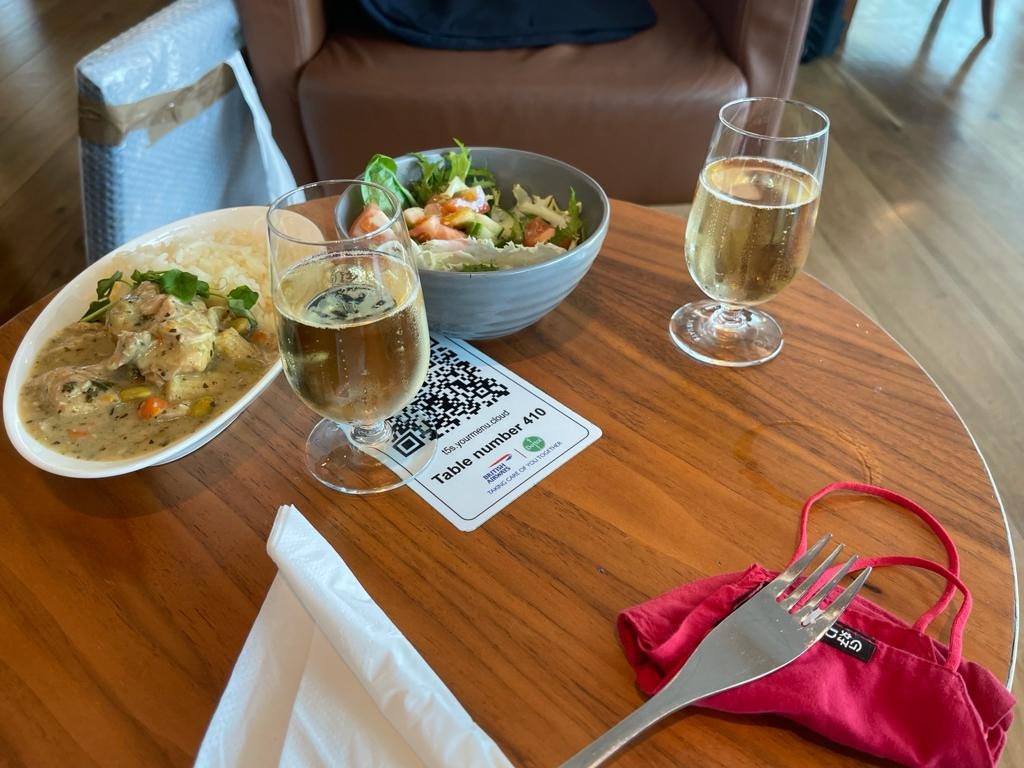 We just flew back from the UK to Hong Kong to face a 21 day quarantine in a small hotel room.
Leaving UK.
BA suggested going 5 hours early so it was quite easy. Checking in at airport took about an hour and a half.
We had lounge passes so had a good few glasses of wine and late lunch to while away a couple of hours.
The main thing is to have hard copies of all your docs as you will need them at check-in and again at boarding. You will need copies to prove your vaccinations (print from iAMsmart app or ehealth app), printed proof of Covid test and fit to fly certificate to be done up to 72 hrs before flying. We did ours the day before flying and took the rapid 3 hr test (costs more but available in 3 hrs) or if not the rapid test it takes up to 48hrs so you would need to book your test 72 hrs before flying to be safe. Make sure you use the before departure recommended companies on the airlines website and make sure the test provider offer the fit to fly certification as not all of them do. We used Collinson. There are some that may have a clinic in Bath so check the airlines list of providers.
You also need a printed copy of your confirmation of hotel stay also confirming it has been paid for. Once you have your Covid results you need to do an online declaration form for HK which can only be completed once you have your airline seat numbers confirmed and details of the UK Covid test result. You should take a QR code save of the declaration and keep a screenshot of it in your photos (you will require it several times in the post landing process once in HK). Also print it out for proof of completion as part of your document pack although the invigilator at the airport may not require it.
From 24 hrs before departure you can complete an online pre check-in which is meant to facilitate the clearance process. That was for BA so not sure what it is for Cathay and other airlines. In the online process, if you have a clean set of PDF copies of all the above documents which can be uploaded as prompted during the online process, you can possibly go straight through the check-in if you receive a confirmation email from your airline (all of it needs to be at pre check-in at a point within 24 hours of flying) although we received an email to say our fit to fly form didn't have the schedule of authorised certifiers (we had the lot but think it may have been a robot scanning the docs filed online and only picked up page 1 of 3) and also didn't have a paid confirmation on our hotel booking so the return email said we needed to do a physical check-in process in any event. I think they do that to capture as much data online as possible and the at airport process is a secondary tick box exercise as a further check in control.
Arrival in HK
Good flight home and on time.
Lots of walking very regulated and efficient flow through to take the train to the 200-230 flights section for further transfer and walk with Declaration checks (QR coded and saved on your phone so make sure you have a well charged battery – suggest you charge your phone on the flight) at start of the Long March and at the end of the Long March.
Continued shuffling by cadres in blue with masks and face shields and eventually QR coded declaration required. Go to a panel of blue cards again who read the quarantine riot act and give you a quarantine pack and your quarantine identification QR coded paper to be held for the three week sentence to match your serial number for the forthcoming umpteenth Covid test. You have a lovely red lanyard as a card carrier with your serial number and another cadre who assigns you a seat number for you to enjoy the wait post your test. Then further shuffling and train track barrier channellers/cadres directing you to pick up your test kit and waving cadres still in blue with masks and head shield directing you to your starting seat for the big test.
Once you endure the two minute test on your tonsils (or where they used to be) and up your nose you are free for a further shuffle to find your designated seat (written on the back of the lanyard tag (green which is obviously for go) with your sentencing serial number to wait for 3 hours for your result (don't do what I did and simply find a window seat with a gorgeous view over the tarmac- until my better half found me and suggested I needed to be put in my place). Before you look for your one seat in around 2000 to sit down you pass another set of blue clothed cadres with mask and face shield who give you a choice of three stale prepacked sandwiches (standard cheese and ham or turkey and stale Branson pickle or yukkie veg), biscuits and bottled water.
Then you get the result you should expect (how often are you waiting to be classified as a negative) unless you are one of perhaps three positive people who land that particular day, in which case you are announced by country of birth and status of where you live in HK on the news in the evening.
Then shuffled to the carousel to pick up your luggage which has been neatly packed in groups and waiting for you for the past hour.
Then further shuffling to a counter to show your quarantine QR coded paper and given a tag for each bag and shuffled to the queue to await your coach which will take you to the bowels of one of 4 or 5 hotels on the route which is the one you signed up for your sentence. Once again show your QR quarantine page and once again you are read the riot act about agreeing to not be seen, not touch anyone, and only pick up your food for brekkie, lunch and dinner placed on your ottoman outside your door. They also deliver provisions like donations delivered to the hotel reception for onward delivery to your ottoman such as Nespresso machines and pods, your helper providing real plates, cutlery, pepper, salt, soy sauce, dill pickles, munchies and all the things that we untouchables enjoy.
In all it took 5 hours from landing to be in our Porridge cell.
However, all very efficient nevertheless.